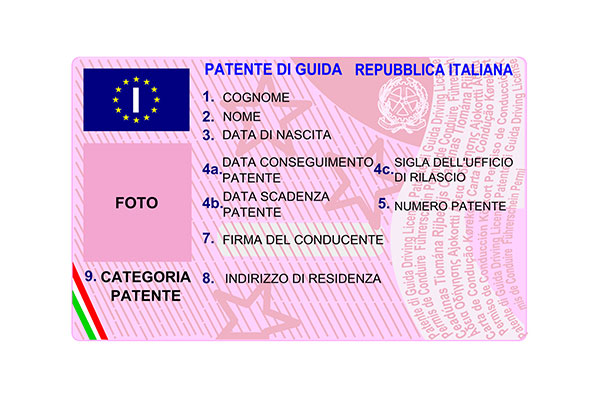 02 Aug

| Driving License in Italy

In Italy Category A and B driving licenses are valid for:
10 years, for drivers up to 50 years of age

5 years, for drivers between 50 and 70 years of age

3 years, for drivers between 70 and 80 years of age

2 years, for drivers older than 80 years of age
If you hold a driving license issued by a European Country, it is accepted in all other member states. If you are going to take up residence in Italy, you don't need to exchange your license for an Italian one, but, if you want, you can exchange it at any time.
An EU/EEA license can only be renewed in the holder's country of residence. If you become resident in Italy  its next renewal, before it expires, be will take place in Italy.
If you hold a non- EU license you must exchange it within a year after moving to Italy.
Some countries have a reciprocal exchange arrangement with Italy. Whereby if you hold a valid license issued by one of these countries, you may swap it for an equivalent Italian one within the first year of residency. If the exchange is not done within a year, you must successfully pass the driving tests (in Italian!) to get an Italian one.
As of March 2012, the countries with a reciprocal exchange agreement are: Albania (until 15/08/2014), Algeria, Argentina, Croatia, Ecuador, El Salvador (until 19/9/2014), the Philippines, Japan, Iceland, Lebanon, Liechtenstein, The Former Yugoslav, Republic of Macedonia, Morocco, Moldova, Norway, Monaco, Republic of Korea (South Korea), San Marino, Sri Lanka (until 14/11/2016), Switzerland, Taiwan, Tunisia, Turkey, and Uruguay.
Special exchange agreements exist for the diplomatic staff and families of Canada, Chile, the USA and Zambia.
To exchange your non-EU driving license, go to the competent department of motor- vehicles civil (Ufficio della Motorizzazione Civile). They will ask you to provide:
a copy of your driving license

a valid ID and at least one photocopy of the front and back

residence permit and at least two photocopies of the front and back

a medical certificate, with revenue stamp and photograph, issued by an authorized doctor, and photocopy of the same

two photographs, one of which must be authenticated.
And you have to:
fill out a form (model TT 2112)

make a payment (approx. € 9,00 for cc 9001 and €32 for cc 4028 – more information at the agency's counter).
Some foreign licenses issued by non-EU countries (i.e., Argentina e Romania) can require a notarized translation with revenue stamp. The translation must be certified by the diplomatic representative of the country having issued the driving license as being a true and faithful rendition of the original document. The certified translation must be validated by the competent "Prefettura" offices.
If you have already exchanged your Non EU license for an EU license in another European Country, you can use it for a year after your relocation to Italy. If your EU license is valid for an unlimited period, you will have to renew it two years after moving to Italy.
Drivers with licenses that cannot be exchanged will need to take a full Italian theoretical and practical driving exam to obtain an Italian one.