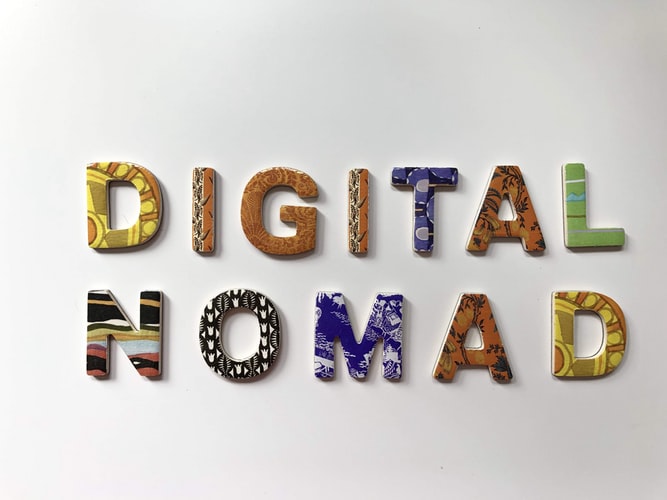 15 Nov

Digital nomads

We have been increasingly hearing about "digital nomads". Often, we don't understand exactly who this term refers to, or we have a visual in mind of a young guy working in flip-flops from some remote beach. But is that really it? Who are the digital nomads? How do they work and why have they decided to become nomads in the first place?

The Digital Nomads are workers who have decided to completely change their lifestyle and way of working by giving priority to two fundamental elements: time and space. Digital Nomads work without the need of a fixed location, from anywhere in the world, or from their own home desk, thanks to the support of two essential tools: a PC and a good internet connection. You become a Digital Nomad once you become aware that your experience and skills can be completely digitised and remoted.

Digital Nomads: what jobs do they do?

The good (and also the bad!) news is that there is no precise answer to this question; just as there isn't any complete list of all the opportunities and new business ideas that the Net can offer us.

Surely, there are jobs that we can imagine as being more easily "remotable" and others that require a "small revolution" to be completely digitalised; but this is precisely one of the most fascinating aspects of digital nomadism: the possibility of reinventing oneself and creating tailor-made jobs.

If we try forcing the very definition of "nomad" and attempt to categorise the type of workers who fit in this definition we can identify: Freelancers, such as writers, programmers, social media managers, illustrators, photographers, video makers; Professionals who provide online services such as counselling, training, consulting, or products such as photographs, eBooks, guides, videos; Entrepreneurs who run their business completely online.

But what do all these people have in common? The belief that working means much more than being in the office for 8 hours and the desire to reinvent and direct one's work from a "digital" perspective.

So, do all Digital Nomads decide to leave everything and move to the other side of the world? Not necessarily!

Digital Nomads want to maintain a strong control over their schedules and workplaces, and identify in these two variables the true wealth of the individual. This doesn't necessarily mean filling up a suitcase and going far. You can also become a Digital Nomad by working from your home desk.

But for those who decide to leave for a new country in search of ideas, contacts and experiences, here are some aspects to think about before buying a one-way plane ticket!

It's essential to look for a country that guarantees good levels of internet connection.

The presence of coworking. It may be useful to rent a desk in a coworking space, both to have a safe place to work from and the opportunity to meet local professionals, or other digital nomads, with whom to compare notes and exchange opinions.

Time zones. If you must be in constant and continuous contact with customers, employers or colleagues, it's important to identify a country with a time zone that is similar or compatible to the one in which the main work activity takes place.

Life cost. In some countries the cost of living is very high, in others it's very favourable. The advice here is to evaluate this aspect well before being faced with unpleasant surprises.