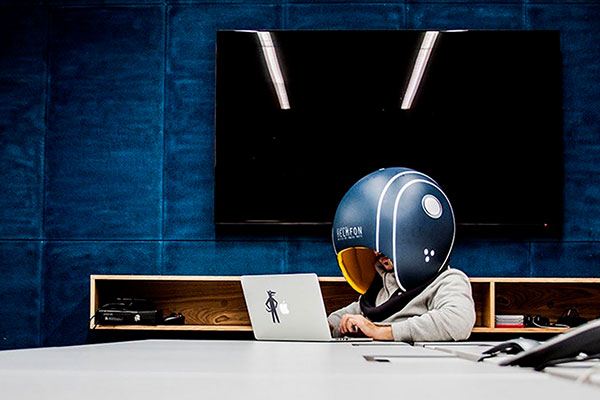 06 Dec

| Helmfon: the helmet to work in silence in the office

Introducing the Helmfon, for those who wish to work in the office in absolute silence, without being distracted by the chatter of their colleagues. This helmet allows you to completely isolate yourself from your surroundings and place more focus on your work.

This item was designed by the Ukrainian design studio Hochu rayu and is made of fibre glass with a polyethylene foam membrane, which allows acoustic insulation.
As you can read from the design studio website: "Halmfon is a helmet-like device that, thanks to the active acoustic absorption system, allows you to concentrate in open-space offices (…) the idea was to create a tool that could help individuals focus entirely on their work projects, preserve their personal space and disallow office noises from interfering with their productivity."
The special helmet – which is larger than a motorcycle helmet – is still in the experimental phase, but will soon be equipped with Bluetooth in order to connect it to mobile devices and make calls, without having to remove it and/or disturbing colleagues, thanks to the internal microphone and surround sound system.
It will also be equipped with headphones, video and camera for conference calls.